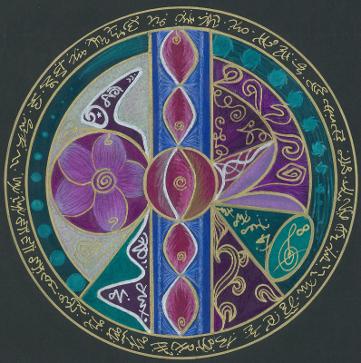 Old Soul Lineage
CODE to Divine RelationshipMANTRA13X AYE YA NUN YA NA EH KAY AH Click to view CODE IMAGE GALLERY
ACTIVATING A CODE


Bring yourself into a relaxed state and open up your energy field to the field of unlimited love and light that is the unified field of consciousness, all around you. You can do this simply by expanding and opening through your heart space. Breathe into the centre of your chest to expand and open. Imagine connecting with long slow breaths to all the trees, leave, flowers, oceans, the crystal and earth kingdoms and beyond to the stars, galaxies, universes.
Focus your awareness and attention on the code image. Say
"I ask this code to activate and spin through my entire Being; the cells, the DNA, the meridians, chakras and the energy matrix of your multi-dimensional Being
", as you sound the mantra in deep resonant tones. The number of times is indicated. You will open to a new level of consciousness appropriate for you, related to the CODE purpose, at this time. Continue to work with the CODE over time,until you feel your energy shift.
CONTACT LAKSHINI Click to Email 02 4382 2587 0438 733 517 if your have any questions

PRODUCTS AVAILABLE FOR PURCHASE: To purchase blank greeting cards, A4 prints and Laminated Codes. Click to view range of blank greeting cards and A4 prints and all products
Click to purchase from my on-line store selected CODES-cushions, tote bags,iPad cases/ skins